We invite you to join us in our efforts to educate industry on the performance advantages of natural pozzolans and to ensure the standards and specifications set forth by regulatory bodies for natural pozzolans are both accurate and effective.
Membership Categories
Use the following membership category descriptions to determine which best describes your NP involvement.
REGULAR MEMBERS: Natural Pozzolan (NP) production and sales in excess of 10,000 tons/year. Regular members have voting rights in the association. One vote per manufacturer or producer. ($5,000/year)
ASSOCIATE MEMBERS: Prospective producers of NP (or current producers with less than 10,000 tons/year production and sales of NP); Marketers or brokers of NP, Suppliers of equipment, materials, or services to the NP industry, and others in a related capacity. ($1,500/year)
AFFILIATE MEMBERS: Affiliate members are organizations or individuals with the same goals as the Association, but are not eligible for membership as a Regular or Associate Member. Examples of Affiliate Members are engineering firms, environmental firms, law firms, end-users of NPs (i.e. ready-mix producers, highway pavers, cement and wallboard producers, block producers, precast producers, cementitious materials containing NP, etc.), universities, agricultural interests, and organizations or individuals that promote the use of NPs in green building and sustainable development, and general NP enthusiasts. ($500/$300 year depending on size–see membership application)
Benefits of Membership
Your participation in the NPA strengthens a unified industry voice establishing natural pozzolans as the go-to source for effective concrete mix designs. Your membership helps us develop and enhance quality standards for natural pozzolans—a benefit to both producers and consumers. Our common voice creates an awareness of the need for natural pozzolans to improve sustainability AND durability, lower the carbon footprint in every yard of poured concrete, and enhance the long term strength of our infrastructure.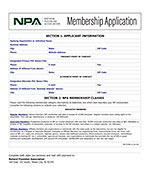 Membership Application
Download the NPA Membership Application (PDF), complete, and mail with payment to:
Natural Pozzolan Association
100 East 155 South, Malad City, ID 83252
MEMBERSHIP MEETINGS: A schedule of upcoming NPA meeting is published on the About the Natural Pozzolan Association page under the NPA Meeting Calendar subhead.
The Natural Pozzolan Association (NPA) is a network of natural pozzolan producers working to improve the performance and durability of the nation's concrete infrastructure.
NATURAL POZZOLAN ASSOCIATION
100 East 155 South, Malad City, ID 83252
208.252.2808 • info@pozzolan.org